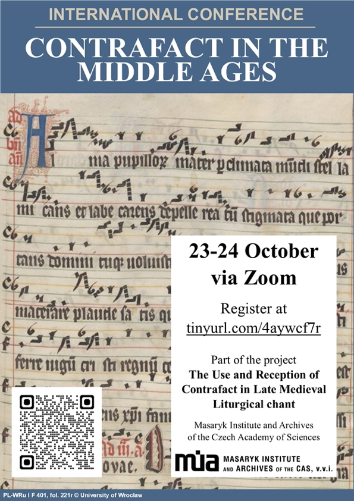 Conference "Contrafact in the Middle Ages"
The Contrafact in the Middle Ages conference is a two-day international conference held online, organised by the project The Use and Reception of Contrafact in Late Medieval Liturgical Chant at the Masaryk Institute and Archives of the Czech Academy of Sciences.
Abstract
Contrafacture, the process of adding a new proper text to pre-existing music, was a common and fundamental part of the musical repertoire in the Middle Ages, from the liturgy to secular song. This conference brings together current research on the phenomenon to expand our understanding of its importance within the musical soundscape as well as the different methods of its creation and analysis. Join us for four sessions which explore various aspects of the world of contrafacta: Contrafacture as a Process; Contrafacta in Sources; Contrafactio as a method; Contrafacta in the Liturgy; concluding with a roundtable discussion.
Registration
To register and receive the Zoom links for the conference, please visit our registration page. [can we add hyperlink - https://medievalcontrafacta.wordpress.com/contrafact-in-the-middle-ages-conference/]
Programme
For a detailed overview of the conference programme and session schedule, click here. [can we add hyperlink - https://medievalcontrafacta.wordpress.com/contrafact-in-the-middle-ages-programme/]
For further information, please feel free to contact the organiser at hallas@mua.cas.cz