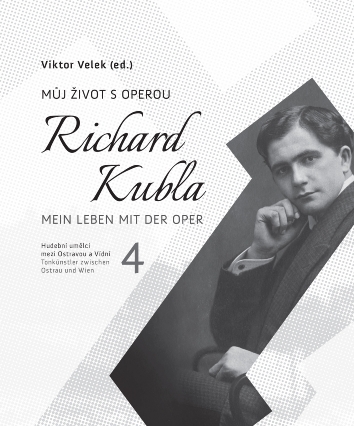 New book by Viktor Velek: wrapping up the tetralogy Musicians between Ostrava and Vienna
Viktor Velek has had a new book published by the Lidové Noviny publishing house: the final part of the bilingual Czech-German cycle "Musicians between Ostrava and Vienna". The topic of musical migration between Ostrava and Vienna in the first half of the 20th century has grown into four books!
This final fourth part of the cycle is devoted again to Richard Kubla (1890-1964), an opera singer of European renown. A monography on Kubla's life and work was published by Viktor Velek last year, but his memoirs are only reaching the readers with this fourth book.
The edition of Kubla's memories presents him as an enchanting and funny narrator, who by means of anecdote draws back the curtain on what is going on behind the operatic scenes and studies at the Viennese academy, in which many famous and forgotten personalities come alive. This is a book that will be interesting not just opera afficionados, but thanks to the scientific standards it maintains, it is an important factographical source for musicology.
The book could be published thanks to the generous support of the Czech Musical Fund Foundation and other institutions and idividuals.
The overview of all four books in the cycle (2018-2021) is available here:
https://www.nln.cz/vyhledavani/?csrfmiddlewaretoken=NTs3cg0ikItBw9OJ4wQIf4k6Tq0rJ65kYClFqYxcyhOEc2n3SSXgH9HtTJ224UaL&query=ostravou+a+v%C3%ADdn%C3%AD&reset=